75th Anniversary of D-Day Tour
This D-Day tour is a dream trip for any WWII history buff who wants to stand on the beaches at Normandy, experience the powerful emotions brought forth by the military cemeteries in France and Luxembourg, stand in a foxhole in the Ardennes, and tour General McAuliffe's office in Bastogne.
Our 75th Anniversary of D-Day Tour, commemorating the Allied invasion of Normandy, promises to be a memorable occasion in many ways. With the number of WWII veterans decreasing rapidly, it may be one of the last times we are able to share their heroic experiences in the exact places that witnessed their bravery. You will walk the sands of Omaha Beach stirred by the memories of the young men who came ashore under fire in June of 1944, then visit the town squares, woods and fields where the paratroopers landed in the predawn hours on 6 June. We will honor and pay tribute to our fallen heroes at the American Cemetery.   
Our 75th Anniversary of D-Day Tour, honoring the men who landed on D-Day, leading to victory in Europe in WWII, is a once-in-a-lifetime opportunity.
About Our D-Day Tour
Our D-Day Tour was designed by Stephen E. Ambrose, who first led this WWII Tour in the late 1970s, and was further developed by our Chief Historian, Capt. Ronald Drez, who assisted Dr. Ambrose with his research while at the Eisenhower Center.
Our D-Day to the Rhine Tour itinerary is based on thousands of hours of interviews with D-Day veterans, studying of the battlefields, and other World War II research. Thanks to their experience with the terrain and its history, we are able to present a D-Day Tour that is unmatched in its authenticity.
On our D-Day Tour you will follow along the path where America's best and brightest fought in World War II, including a Normandy tour that visits all of the American cemeteries along the Normandy beaches, including Omaha and Utah Beach.
The Evolution of the D-Day to the Rhine Tour
Stephen Ambrose founded the Eisenhower Center at UNO in the 1980s, when he began work on the book Eisenhower: Soldier and President, the first in a multi-volume biography of Dwight "Ike" Eisenhower. As part of Dr. Ambrose's research, he began interviewing thousands of D-Day veterans about their firsthand experiences fighting during WWII. He set them up with tape recorders and each soldier started with his name, rank and serial number and then told his story.
Stephen Ambrose also began traveling with these veterans to the battlefields of Normandy to record their firsthand recollections. Not only did he use this research for many of his best-selling books, including D-Day: June 6, 1944, but he also began to tell the stories of these citizen soldiers on his D-Day tour at the very places where they fought.
The Most Qualified D-Day Historians
We have only the most qualified historians lead our D-Day tour. Our historians are experts in their field of history and world-renowned authors. Their years of extensive research and interviewing hundreds of WWII and D-Day veterans on the very battlefields on which they fought add a personal dimension to our tours that no other WWII or D-Day tour company can offer. It is a highlight to hear them tell these stories of America's heroes at the very places where they occurred. These harrowing tales of bravery and courage capture a moment in time.
PLEASE NOTE: We also offer an optional post-tour to Berchtesgaden and Berlin.
Highlights
Churchill War Rooms – The Churchill War Rooms, the underground nerve center for Britain's war effort, is always a highlight.
Southwick House – We visit Southwick House where Eisenhower, Montgomery, Ramsay and staff planned the invasion.
Normandy Beaches – Visiting the invasion beaches of Normandy: Omaha and Utah and the American Cemetery are one of the most moving things you will ever do.
Ste-Mere-Eglise – You will not find this stop on other Band of Brothers Tours: the iconic church and steeple at Ste-Mere-Eglise and the guns at Longues-sur-Mer.
Pointe-du-Hoc – Stand where the Rangers scaled the cliffs at Pointe-du-Hoc.
Bastogne – We wrap up the tour learning about Bastogne, the Ardennes and the Battle of the Bulge.
Day-By-Day Itinerary
The 75th Anniversary of D-Day Tour itinerary will mirror our D-Day to the Rhine Tour, however we spend extra time in Normandy to attend the commemoration events being held in 2019.
We are also offering an optional post-tour to Berchtesgaden and Berlin.
One and two-week tours are available. Please call our Director Mark Bielski at 888.903.3329 for more information and to reserve your space.
Tour Dates
June 2019

June 2019 Post Tour
<< Book This Tour >>
Video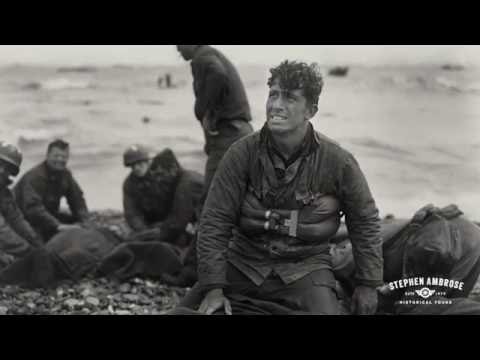 Historians
TRIP COST: To Be Announced
Optional post-tour to be announced.
<< Book This Tour >>